Precision Farming - Agricultural and forest monitoring
AIMS/APPLICATIONS
TERRASYSTEM suggests solutions to every organizations that are employed in the management of the natural environment and of the agricultural resources with a complete set of products and services that integrate the traditional systems of survey with methodologies featuring high technological content, based on aerial and satellite
remote sensing
and on the
GIS
.
FIELDS OF APPLICATION





Winegrowing
Fruit arboriculture
Grain farming

ADDRESEE





Agricultural and food, forest Research Institutes
Agroindustry
Organizations of producers
Local Governments and Professional studies
The solutions are applied to:
Monitoring of the agricoltural productions and of the quality of the crops (precision farming)
Identifying of the crops, counting of the plants
Identifying and mapping of demaged areas
Identifying and mapping of forest phytopathologies (areali o a livello di singole piante)
Monitoring of biotic and abiotic stress
Mapping of structural and biometric features of woodlands
METHODOLOGIES
Aerial and satellite remote sensing
TERRASYSTEM processes and uses data from both aerial and satellite
remote sensing
, having the necessary software for the geometric and radiometric correction for every platform and for the classification of the images by hard and soft parametric models and non-parametric (neural net).
TERRASYSTEM acquires and processes by its own systems
very high resolution images
by aerial sensors designed
ad hoc
for agro-forest applications (
DFR
and
ASPIS
systems), installed on versatile and cheap
aerial platforms
.
Our systems allow surveys both at a regional and at a local scale, reaching the detail required by the most demanding applications, both in terms of spatial and temporal resolution, such as precision farming and the survey of forest pathologies up to the detail of the single foliage.
Monitoring of the quality of the durum wheat
Multispectral remote sensing for precision viticulture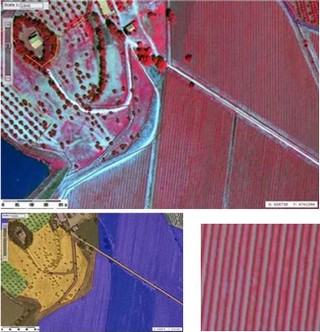 GIS
The remote sensing data and the ones retrieved from traditional systems of survey are the input for the analysis in
GIS
environment, carried out by advanced hardware and software tools.
Processing of indexes and forecast models(production, quality etc.)
Spatial and multitemporal analysis
Statistic analysis
Statistic analysis of historical series of georeferenced environmental data, obtained by multispectral and multitemporal remote sensing, acquired by field activity and/or coming from meteo stations, allows to spot and to isolate the factors correlated with the studied phenomenons.
Going into more depth study, it is possible to get to a modelling by mean of regressive tecniques and neural net, with the return of the spatial and temporal output.
Web-GIS of an integrated system for the forecast of the production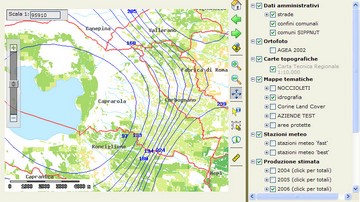 PRODUCTS
Offered products go from the simple pre-processing of the captured data to complete systems for the supply of a geographic information system.
TERRASYSTEM implements Web-GIS applications that allow to manage and share the service through the internet, taking care of the installation and of the maintenance in a dedicated server.
SOME POSSIBLE APPLICATIONS
Estimation of production
Monitoring of the water content and of the efficiency of the tecniques of irrigation
Estimation of the effect of fertilizers
Estimation of biotic and abiotic demages
Management of forests and natural areas
Environmental impact assessment
Monitoring of the ink desease of chestnut oak