Aerial platform
Sky Arrow 650 TC/TCNS
This aircraft, built by Iniziative Industriali Italiane SpA, is FAA / JAR certified and is entirely made of carbon and kevlar. With the use of specially designed plates, the sensors can be put in position and easily removed . It is equipped with a Rotax 100 HP engine and it has a fuel distance of 3.5 hours. It is an extremely versatile aircraft and can take off and land with just a 500 m long runway. Its flight altitude goes from 300 to 4000 m above the sea level depending on the kind of the demanded application. Terrasystem has carried out systems/services on SkyArrow aircrafts for:
- I-TRET (University of Tuscia, Italy)
- I-RAWH (Ibimet CNR, Italy)
- PH-WUR (Alterra, Netherland)
- I-RAWD (Istituto Agua e Aria, Argentina)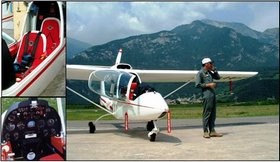 Piper PA-34 Seneca II
This light twin-engine is equipped with two turbo Avco Continental 200 hp engines. Extremely handy and flexible, it reaches a 55 m / s speed during the surveys and 80 m / s during transfers, with a fuel distance of 5 hours (about 970 km). Its flight altitude goes from 300 to 6000 m above the sea level depending on the kind of the demanded application. The sensors are placed on specially designed plates instead of two rear seats and they can be inserted and removed very simply .
P68 Observer Vulcanair
It is a 6-seater twin-engine globally recognised as being among the most productive for tasks of observation and patrolling. It was created to offer an alternative and cheaper solution in the fields where the use of the helicopter has so far prevailed. It is equipped with two Lycoming IO-360-A1B6 200 hp engines, and it reaches a cruising speed of 300 km / h. It can do surveillance flights of up to 5490 m above sea level.