ASPIS system
ASPIS is an innovative optical multispectral system, multi frame type, with a high spectral resolution, developed by DISAFRI - University of Tuscia in collaboration with Terrasystem.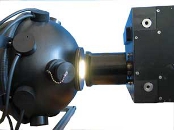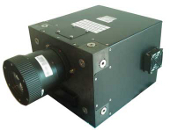 The system acquires from 4 to 12 12-bits spectral bands in the 350-950 nm range. ASPIS simultaneously acquires four bands; the 12 bands are later co-registered, corrected in radiance and orthoprojected through a semi-automatic process.
ASPIS is part of the DFR system and represents its evolution, extending its flexibility and its capability of acquiring spectral data. It is possible to equip the system with a dedicated set of 12 interference filters or select some bands within the set.
Technical specifications:
- 4 CCD unique optics multispectral camera
- 2048x2048 pixels 12-bit CCD
- CCD spectral sensitivity range: 350 - 950 nm
- 12 selectable and interchangeable interference filters (3 x CCD)
- apochromatic F35/2.8 objective
Clic the image to view a detail af the ASPIS datum (jpeg compressed) in 8 different bands, 50cm resolution , scale 1:1 (scrollo the images by the arrows or the mouse wheel)
Available interferential filters
| | |
| --- | --- |
| Central band frequency (nm) | Width of the spectral window (nm) |
| 531 | 10 |
| 550 | 20 |
| 715 | 10 |
| 420 | 20 |
| 570 | 10 |
| 750 | 10 |
| 900 | 20 |
| 700 | 10 |
| 680 | 20 |
| 500 | 20 |
| 800 | 20 |
| 780 | 20 |
Further readings:
PAPALE D., BELLI C., GIOLI B., MIGLIETTA F., RONCHI C., VACCARI F.P., VALENTINI R., 2008 ASPIS, A Flexible Multispectral System for Airborne Remote Sensing Environmental Applications. Sensors (8), pp.3240-3256